As bloggers, we are always looking for tools to help us get our jobs done quicker and more efficiently. Today I want to share with you 7 FREE Chrome Extensions for Bloggers.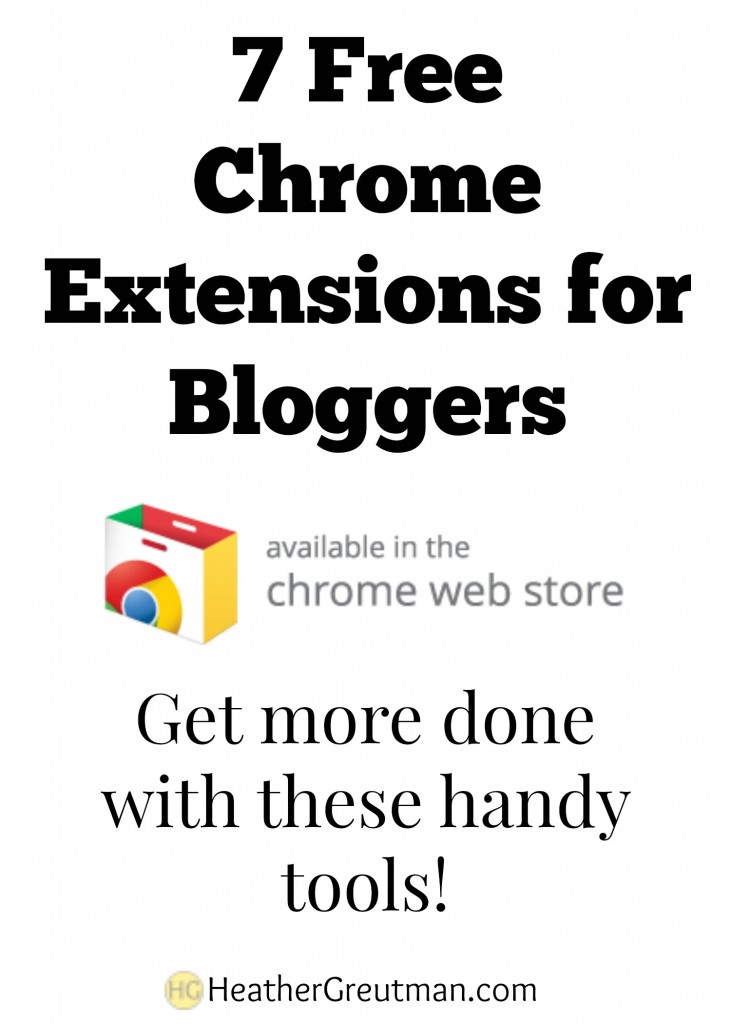 I will admit, it took me a while to get on the Google Chrome bandwagon. I am an Apple girl through and through (I love my Macbook Pro, iPad Air, and iPhone!). So I used Safari for the longest time.
Until the fateful day when I joined a Pinterest scheduling company that used a Chrome extension for scheduling posts. I drug my feet, but eventually downloaded their Chrome Extension.
Then I found the rest of the extensions that I am about to share with you, and my love for Chrome has grown! I no longer use Safari and use Chrome exclusively just so I can use the extensions to make my blogging life easier!
7 FREE Chrome Extensions ALL Bloggers Should Have!
1. Hootsuite Hootlet – Can I just say, this extension sealed the deal for me on using Chrome. Oh my word, if you have NOT gotten this one yet, what are you waiting for?? If you use Hootsuite to schedule social media posts on Facebook, Twitter, or Google + Pages, then you HAVE to get this extension. Instead of logging into Hootsuite, grabbing the link you want to share and scheduling it inside Hootsuite.com, simply go to the post you want to share. Click on the Hootsuite Hootlet Extension button in your browser (top right) and that will bring up a pop up window with a shortened URL and title of the post you want to schedule. Click which channel you want to schedule to, add and edit the post, and then either auto schedule and manually schedule it, all while in the same tab on your browser! I love using this to schedule posts quickly to Twitter!
2. DoShare – If you have been looking for a way to schedule G+ posts to your personal profile instead of your G+ page, then this extension is for you! The only downfall is that your Chrome browser needs to be opened and running for the scheduled posts to actually go through to G+. I have used this one a few times, especially if I am going to be out of town. For the most part though I share live on G+.
3. Pinterest Pin-It Button – You may already have your PinIt button from Pinterest in your bookmarks tab, but now you can get a snazzy little Pinterest button where your Chrome extensions are located. It works the same as the original PinIt button, just prettier! 🙂
4. Eye Dropper – If you make your own graphics, buttons, headers etc. for your website than the Eye Dropper extension can be super helpful! It is an open source extension that allows you to grab any color on any website you see. Great for color coordinating graphics to colors already used on your site.
5. Awesome Screenshot: Capture & Annotate – For none Mac users this extension can be super helpful for taking screen shots on your computer easily. You can grab a screen shot, edit it, annotate it and then immediately share it over social media or save it for your site! Even if you are a Mac user and use the shortcuts for taking screen shots, you may still want to check this extension out! You can easily annotate, add text, blur, hide sensitive information etc. on your screen shots. Perfect for tutorials or step by step direction type posts.
6. StumbleUpon – If you use StumbleUpon to drive traffic to your sites or others in your blogging tribe or group, then the StumbleUpon extension makes it easy to give a "thumbs up" on posts as you are browsing!
7. Strict Workflow – Ah, time management. Sometimes it's hard to do that in our distractible world of blogging. This extension is an online timer to help keep yourself on tract! It uses 25 minute working windows and then gives a 5 minute break. You can repeat that as many times as you wish! You can even block distracting websites (i.e. Facebook, ha!) while you are in the 25 minute working window. I personally have not used this one yet, but many of my blogging friends suggested it. I think I need give it a try!
Follow Heather @ Golden Reflections Blog's board Blogging 101 on Pinterest.
What are some Chrome extensions that you can't live without as a blogger? Let me know in the comments below!
Blogging Blessings,