I have recently been addicted to Podcasts! When one of my homeschool blogging networks, iHomeschool Network started putting their G+ Hangouts into Podcast format, it really got me into listening to Podcasts! They are so easy to gain huge amounts of information from, even while you are driving down the road!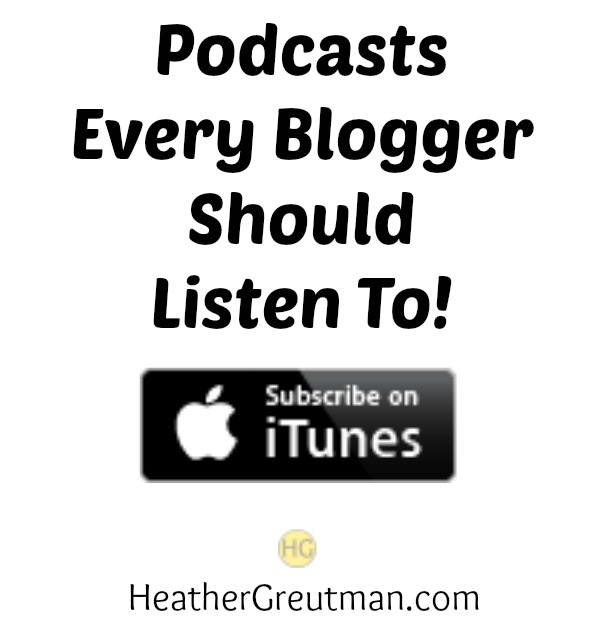 So since I now have this new found love of Podcasts, I have found 3 great blogging Podcasts that I have really enjoyed listening to! All 3 of these Podcasts are full of tons of information! Whether you are a beginner, or seasoned veteran blogger, you will find something in these Podcasts for you!
1. How They Blog Podcast – How They Blog Podcast is hosted by Kat, who also blogs at Inspired To Action. I have only listened to a few of her podcasts so far, but I have learned SO much by doing so! Here are a couple of my favorites so far:
You can subscribe to The How They Blog Podcast on iTunes or Stitcher for Android users!
2. Dollars and Roses Blogging Podcast – Dollars and Roses podcast is co-hosted by a blogging husband and wife team, Jeff and Mandy Rose. Each of them have their own successful blogs and share all the knowledge and expertise with you in their podcasts! They also interview a host of great guests, I have learned so much listening to their podcasts! Here are a couple of my favorites:
Legal Issues Every Blogger Should Know Before Starting Their Blog – In this podcast, they interview a lawyer from California on general laws and legal issues you should know before starting a blog! GREAT information in this one!
How To Deal with Blog Haters – This is the part of blogging no one likes to think about or talk about! Jeff and Mandy share some of their own personal experiences and how to deal with the nay-sayers that you may come across in your blogging journey!
You can subscribe to Dollars and Roses podcast on iTunes!
3. Blogging Your Passion – Blogging Your Passion podcast is hosted by Jonathan and Bob, both of whom are successful bloggers who blog full time! I just started listening to their podcast today actually, and have already taken some notes and learned some great stuff! Here is my favorite of their podcasts so far:
6 Step Checklist for Improving Old Content – This one is golden! I wrote every single one down and I am going to be headed back to all my old content on my homeschool mom blog and also keeping up with this checklist here on HG!
You can subscribe to Blogging Your Passion on iTunes!
For blogging tips and ideas be sure to follow me over on Pinterest and my Blogging 101 board!
Follow Heather G. | Golden Reflections Blog 's board Blogging 101 on Pinterest.
Do you have a favorite blogging podcast? Share them with me below in the comments!
I will keep this list updated with more podcasts as I find them or as you tell me about them as well!
Blogging Blessings,