Confession time: I am a PicMonkey addict! If you have never heard of PicMonkey and are wanting to learn how to use it to make that awesome pinnable graphic you keep seeing on Pinterest, than you have come to the right spot! Learn how to use PicMonkey like a PRO with Monkey See Monkey Do – A Tutorial for Using PicMonkey With Professional Results by Richele McFarlin.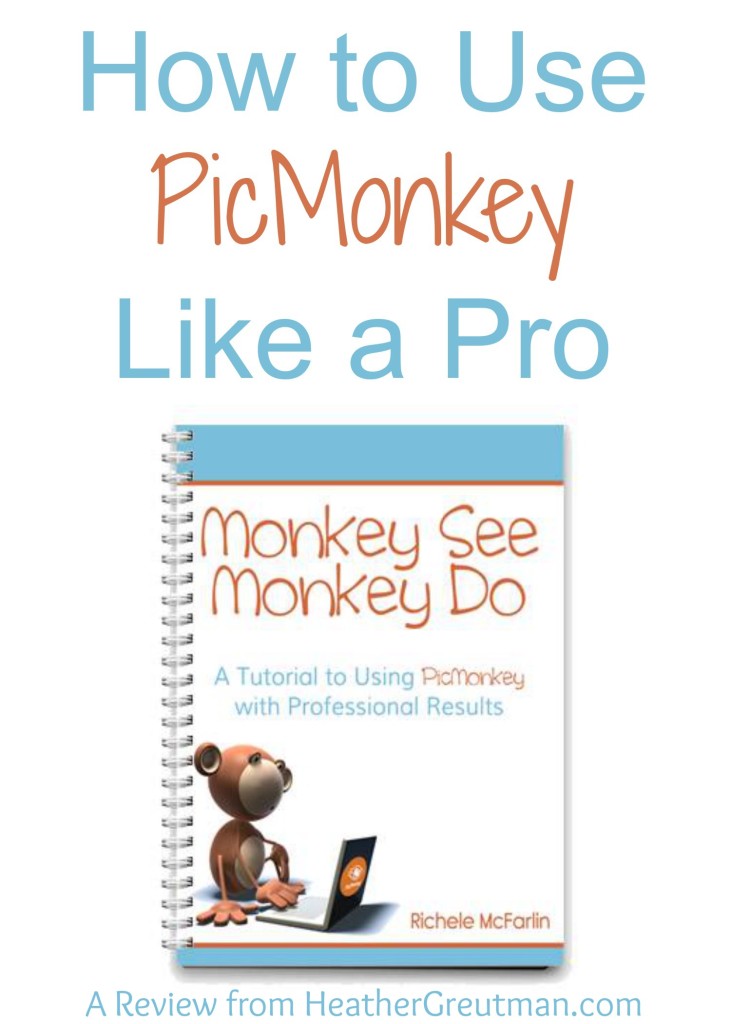 In Monkey See Monkey Do, Richele McFarlin shares her tips and tricks on how to use PicMonkey like a professional graphic designer. After all, she is one! She currently owns Crisp Apple Design which designs a host of things from websites, to business cards and media kits!
Monkey See Monkey Do breaks designing with PicMonkey into 2 sections:
Monkey See – Here you will learn about color scheme, color psychology and using the right image!
Monkey Do – This is the nuts and bolts of everything there is to learn about using PicMonkey. From how to use all the tools and effects that come with PicMonkey to how to design your own eBook covers, blog headers/buttons and other blogging bling!
Richele has really not left anything out in this tutorial! Even if you use PicMonkey every day, like I do, I know you will find something in this tutorial that you didn't know! For example I had no idea PicMonkey had a draw tool! I know it may be silly of me to have not known that, but now I do thanks to Richele! I think it could come in pretty handy!
If you have wanted to learn how to use PicMonkey, how to use basic HTML and how to make a killer media kit, then Richele is the person you want to check out! She is offering this amazing Blogging Bundle to celebrate the launch of Monkey See Monkey Do!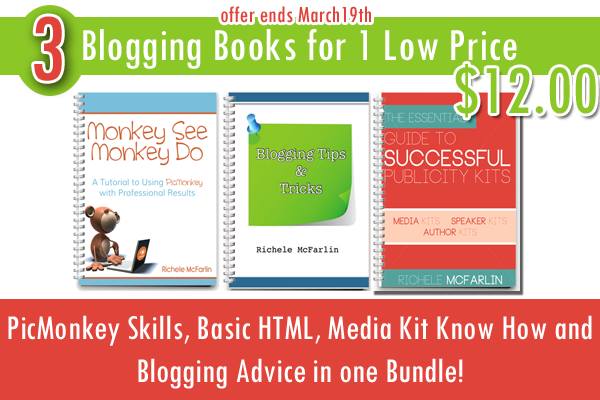 Included in the bundle are:
Monkey See Monkey Do – A Tutorial on Using PicMonkey with Professional Results
Blogging Tips & Tricks
The Essential Guide to Successful Publicity Kits – Media Kits, Speaker Kits, and Author Kits
And it's only $12 for all 3 of these great ebook tutorials! Hurry and get yours today before this amazing bundle ends on March 19, 2014!! All 3 books are PDF digital downloads.
If you would like to purchase Monkey See Monkey Do, Richele is also offering a special for this week only! For only $4, get Monkey See Monkey Do plus all the free extras!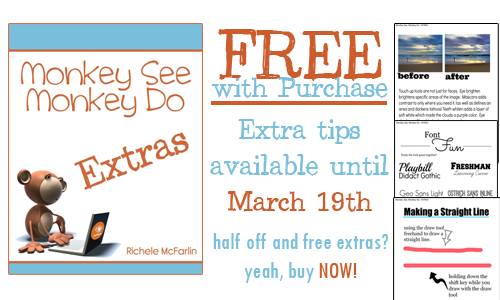 After March 19th, the special extra tips will go away and the price will also increase to $8 for Monkey See Monkey Do! This is a PDF digital download tutorial.
And if you have not checked out PicMonkey Royale yet, you really should! They are offering the first week free on them! I know once you try it, you will be hooked like I am!
I know you will learn a ton from all these great ebooks! Richele is a great blogging friend and is so knowledgeable in all that she does! She will really help you take your blogging to the next level with Monkey See Monkey Do!
Blogging Blessings,
Disclaimer: I received a free copy of Monkey See Monkey Do for the purpose of this review. All opinions and thoughts are 100% honest and my own. No other compensation was received for this review.
BCh